First, a fun review for The Deadly Fae!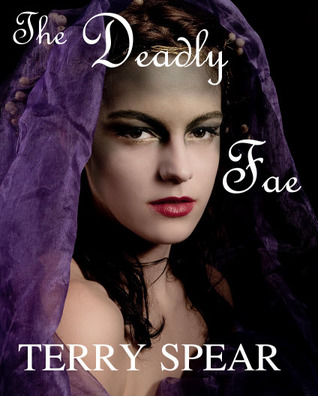 Title: The Deadly Fae
Series: The World of Fae #2
Author: Terry Spear
Published: 08-23-13 by Terry Spear
Narrated by: Jeanne Whitehouse
Length: 5 hrs and 1 min
Links: Goodreads | Amazon | Kindle | Audible | B&N
Source: Author
Reviewer: Linda
Rating: 5/5
Thoughts:
I loved it! This is the 2nd book I've enjoyed from Terry's World of Fae series and it's just as magical a tale as the 1st one! As with the 1st story, this tale would also be perfect for tweens and teens . BUT… it's not just for the young. I really enjoyed it, too, and I'm in my 60s.
The plot was an enchanting and original treasure. Lady Sessily, an ultra-talented dark fae hunter assassin, is on an assignment when she encounters an obstacle to her plan. That obstacle is a tall, dark and handsome cobra fae who believes that he is gallantly protecting a young boy when he interferes with Lady Sessily's mark. Lady Sessily has to devise a new plan and the same cobra fae is an obstacle again! Then their path cross yet a third time! She can't seem to stay off his radar! By this time, she doesn't know whether she wants to kiss him, slap him or kill him!
I almost died laughing at parts. It's all good, clean fun.
"We've already slept together and you made no objection."
Bottomline: This book is a perfect blend of YA romance, fantasy and unending excitement! It left me amazed, dazed and with a warm fuzzy feeling! Terry's World of Fae ROCKS!
And then it's my birthday and my son sent me flowers, so I have to show them off:
And, then the blog tour first stops:
"We'd like to welcome
Terry Spear
to TGTBTU today – it's the first time she's been featured here. That's not because we haven't tried to schedule something for her. She's that popular with readers. If you're not quick, you lose out. We finally got lucky!
Her wolf and jaguar shifters are some of the best in romanceland, and if you haven't read any of her books yet, you need to pick one up soon. They're that good. Get lost in a world where family is a priority, they take care of each other through everything Ms. Spear throws at them, and love may sometimes come the long away around, but you know it will be worth the wait when it finally hits.
So have some fun with Terry today. Then take a trip to your favorite book store to begin an unexpected journey with sexy heroes and sassy heroines who get growl-y and furry and love to romp through the woods."
Please drop by and comment, if you have the chance!
And, on Wicked Scribes: David is here with an exclusive interview never before done and so if you have a chance, please drop by and tell him how hot he is. Then we can get him to do more. Everyone needs a little cheering on, after all! http://wickedscribes.wordpress.com/2014/05/29/spotlight-on-terry-spears-jaguar-hunt/#comment-18666
Remember all the blogs and interviews I had to write? These are some of them.
Okay, that's it. This is the LAST day to vote for
The Dark Fae
, so if you haven't, and you want to, here is the link one last time. After today, the votes will be tallied.
Back to Her Highland Hero. I need to reach 51,000 today. I was derailed yesterday when my son's flowers arrived and that meant picture time!!! It doesn't take much to derail me.
:)
Have a lovely Saturday! Next Tuesday is the release of Jaguar Hunt and I'll be busy all week with blog tour stuff.
Terry
"Giving new meaning to the term alpha male where fantasy is reality."