After enjoying delicious food on Thanksgiving, I'm more than ready for some eye candy. Okay, so I'm ready for eye candy any day, 364 days a year (with an extra yummy day each Leap Year). Face it, no calories, but a feast for the eyes. Fantasies can take flight without having to wait for boarding or suffer delays at the security-clearance areas. Here are some holiday delights of which you can have second—and third—peeks without putting on an ounce.


Santa, Baby, don't worry about putting those presents down the chimney. Just bring yourself…I'll take care of the midnight snack.








What's more delicious than any holiday buffet? A group of gorgeous men.







Whisper what you really want …










I prefer this to finding any needle ….









Okay, Santa, you can leave your hat on …






And what did I find beneath my tree?






Now that you have my attention, what comes next?






Had to include a sexy cowboy – he's in the spirit no matter what time of year. Horse? What horse? Grrr…..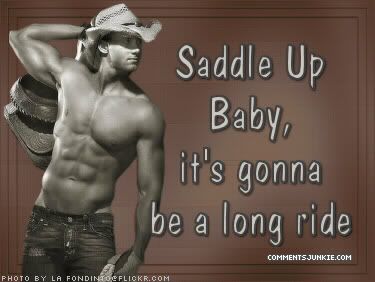 Wishing you happy holidays,
Shawna Moore
TO HELLE AND BACK AGAIN -- Ellora's Cave
TORMENTED (Recommended Read) -- Ellora's Cave
ROUGHRIDER -- Ellora's Cave
HELLE IN HEELS -- Ellora's Cave
Shawna's Myspace
Helle's Myspace