Happy Wednesday everybody at the Fierce Romance blog! Today, I'm taking the reins from Anne Rainey (an oh-so-talented author) and I'll be chatting to you about a subject that has fascinated me for a long time, even before I delved into the murky, sexy, thrilling waters of writing erotic romance.
Sex with the boss.
Now I'm the first person to put my hand up and admit it - I'm attracted to a man with power. He can be the managing director of a multi-billion dollar company or he can simply be the guy down the street wielding a chain-saw. It's the girl in me, the old-fashioned lady who goes weak at the knees in the face of raw masculinity. And considering how many readers go buttery for alpha males, I'm pretty sure I'm not alone :)
But lordy, it does cause some problems, doesn't it? Especially in the work environment. I've been employed in a few offices over the years and once or twice I've been blessed (or cursed as the case may be) with a rather dashing boss.
It's silly really. But a man with a bit of power makes me blush, stutter and melt into a puddle of liquid desire (sorry, was that a little purple-prosey?) :) And if the feeling is ever reciprocated, things can get very messy. We're talking sexual tension to the highest level. It's forbidden, it's exciting and it has to be kept secret.
Anyway, the truth is that in the end all of my hunky bosses have been gay, married or horrible people so I've never had the opportunity to play out one of my oldest fantasies.
But I did get the opportunity to write it :) (see how nicely that led in? It was a coincidence, honest!!!)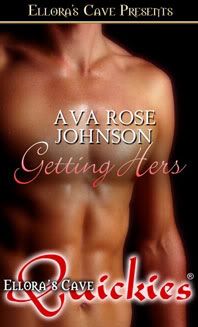 Getting Hers
, releases today from Ellora's Cave and is a hot story about two people who find love in the office. I had so much fun writing it--Parker and Melanie's chemistry sparked off the page for me.
Here's a quick blurb:
Parker Stevens has one golden rule—never mix business with pleasure. But when Melanie, his curvaceous secretary whose sultry red lips turn him to stone, announces she's leaving him, he's finally free to claim what he's craved since she first sashayed into his office six years ago.

Melanie's been in love with her charismatic boss since the beginning, and when a sudden blackout traps them in an elevator together, fantasy finally becomes reality. Parker brings her darkest desires to the fore, driving her from climax to climax. How on earth can she leave him now?
To buy/read an excerpt, visit:
http://www.jasminejade.com/ps-7793-50-getting-hers.aspx
And also, don't forget to enter my contest this month. For a chance to win a goodie bag, visit
http://avarosejohnson.com/contest/
Thanks to the ladies of Fierce Romance for having me here today, I had a blast.
Enjoy the rest of your week!!!
Ava
http://www.avarosejohnson.com