Hi Fierce Friends,
My Tess's Troubadours Contest is over! I drew the magic ticket yesterday, on St. Patrick's Day, and awarded the Big Contest Prize to my lucky Troubadour, Stacey Smith! CONGRATULATIONS STACEY! I appreciate all of the help my Troubadours gave me and I know that their efforts helped put HIGHLAND REBEL in the limelight on the Internet! :)
So, HIGHLAND REBEL is in bookstores, the contest is over, and the question is . . . what's next?
Well, what's next is getting my new proposal for the third book in the series done and sent to my editor. It actually should have been on her desk about three months ago, but Life intervened and I'm not finished yet. So what's the process on writing a proposal for the third book in a series?
First, I have to decide which secondary characters from the first two books to carry over into the third. One is a no-brainer -- I know that Allie Graham, sister to Ellie and Maggie Graham, will be my heroine, but who to link her up with? Alex, the handsome, cocky con artist who discovered, with Maggie's help, the tri-spiral in the floor of the Scottish cairn---or some new Scottish hunk from the past?
I've already planned to make Davey and Katie part of the new book -- Davey is a scientist who went back in time to 1734 with Ellie Graham and Ian MacGregor (HIGHLAND REBEL), and met Katie MacGregor. Their relationship was a lot of fun to write about and I know there is more to tell in the next book. So, okay, I've got Allie, Davey and Katie for sure, but I'm still not sure about Alex and some unknown hunk.
And what about Rachel? Rachel is Maggie's best friend and was in HIGHLAND ROGUE. She's a quirky, plus-sized gal with a great sense of humor and about ten million dollars in the bank. Should she go back in time with Allie in this book, or should I save her for yet another book where she's the main girl? So many choices, so little time!
So what do you -- my fearless readers think? I'd love it if you would comment here and let me know -- what would you like to see in my next HIGHLAND book?
Oh -- and HAPPY ST. PATRICK'S DAY yesterday! Here's a few fun Irish LOLcats to make you laugh!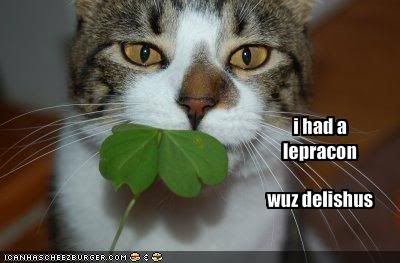 Keep Writing! And don't forget . . . Love is Timeless!
Hugs, Tess