It's summertime and my creative thoughts often wander to ranches and the sexy cowboys who work on them. Sweat glistening above their brows and on their hard bodies. Muscles bulging as they heave those hay bales or polish tack. Sunshine playing over the chiseled features of faces wearing a bit of sexy stubble. We definitely adore and admire these salt-of-the-Earth guys and their hardworking ways. But once we start mulling their dedication to ranch duty, we also realize they likely live and love and hard as they work. Can these guys who live for the thrill of the outdoors embrace commitment? Will they make time in their busy schedules for romantic moments?

In my contemporary erotica romance tale, ROUGHRIDER, Jack Dodson is tired of life on the rodeo circuit and ready to settle down to workdays co-managing a local ranch. What he doesn't count on is the return of his curvy childhood friend, Kim Taylor. She's into carefree while he's thinking career. Though it's summertime in Mesa Junction, Texas, the heat in the family kitchen is driven up many more degrees when this couple submits to some of their wildest fantasies. A woman never looks at breakfast the same way once she's had a second helping of cowboy before her first cup of morning coffee.

A woman's rabid curiosity clashes with criminal minds and escalates the drama in a small Texas town where love and loyalties are harder won than any rodeo trophy.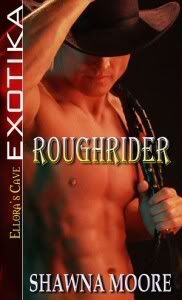 Click here to read an excerpt and for more information

Click here for reviews and another white-hot excerpt

ROUGHRIDER – Are you ready for the ride of a lifetime?
Click here to watch the promo video for ROUGHRDIER
Click here to watch the storyline video for ROUGHRIDER
Feel the heat in erotic fiction,
Shawna Moore
ROUGHRIDER -- Ellora's Cave Exotika
HELLE IN HEELS -- Ellora's Cave Exotika
TORMENTED -- Coming soon to Ellora's Cave
Shawna's Myspace
Helle's Myspace