Stinging jelly fish, lots of different varieties! The top picture is of a sea anemone. Poke your finger in the center and it will try to eat it. :) When I went to the Pensacola beach, jelly fish cluttered the beach and floated in the water. Same when I went to South Padre Island. But when I was at Grand Cayman Island, no jelly fish or Portuguese Man-of-Wars. Not that they don't have them. I just didn't see any of them.
So thankfully, I didn't have to add those to A Howl for a Highlander. I had picked up a Man-of-War once. I was maybe 5 and we were on vacation in Florida. Did I ever mention kids can ruin their parents' vacation in a heartbeat? I thought it was a big purple balloon. We were from California and I don't ever remember seeing something like that on the California beaches. Not at that age.
My hands swelled to three times their normal size and I went into shock.
They're nothing to mess with. So though I love the water...these creatures are best left to swim alone.
My dad jumped into the Banana River in Florida from a boat to swim and started yelling. Mom quickly got back into the boat. Dad had jumped into the black water into a patch of stinging jelly fish. Not fun.
Have you ever had an encounter with the stinging kind? Wouldn't you rather just swim with---him?
Have a terrific Saturday!!! Back to writing!!!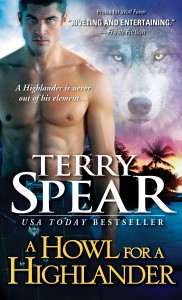 Genre:
Paranormal Romance
Series:
Werewolf Series, Book 10
Release Date:
February 5, 2013
Publisher:
Sourcebooks Casablanca
Formats Available:
Mass Market Paperback, Kindle, Nook
Purchasing Info:
Author's Website, Publisher, Amazon, BAM, IndieBound, Book Depository, Chapters/Indigo, Powell's, Goodreads, Kindle, Barnes & Noble, Nook, iTunes, Kobo, Books On Board, Discover New Love.
And if you haven't signed up and want to:
Want to be kept up-to-date on Terry Spear's

NEW

releases? Just sign up here and you'll receive an update each time a new release comes out!
Subscribe to Terry Spear's New Releases Announcement
Terry
"Giving new meaning to the term alpha male where fantasy IS reality!"
www.terryspear.com